On Sunday, Israeli police forces arrested Muna and Mohammad Al-Kurd in the Sheikh Jarrah neighborhood of Jerusalem on charges of alleged participation in riots and the disruption of public security. The twin siblings have led a powerful social media effort dedicated to resisting the forced expulsion of Palestinian families from their neighborhood and others in East Jerusalem. They were released on Sunday night after spending hours being interrogated in custody (1).
The Al-Kurd siblings, both 23, have had a long history of activism and journalism following the partial takeover of their home by Israeli settlers in 2009. Their proximity to the practice of home theft inspired the documentation of these offenses to broadcast them to the world. The recent uptick in violent attacks against Palestinians and attempts of ethnically cleansing the Sheikh Jarrah neighborhood has brought international attention to their efforts, and seemingly drew the notice of the authorities seeking to quell their firsthand reports (2).
The arrest of the siblings follows another arrest of a journalist covering the Sheikh Jarrah neighborhood. On Saturday, Israeli police forces arrested Al Jazeera journalist Givara Budeiri, who was covering a peaceful demonstration in Sheikh Jarrah. During the arrest, the police forces assaulted Budeiri and destroyed her filming equipment. Video footage reveals several police forces grabbing and shoving Budeiri while pushing away cameras attempting to film the violent arrest. While Budeiri was released from custody hours later, she was placed under the condition of not returning to Sheikh Jarrah to report news for 15 days (3).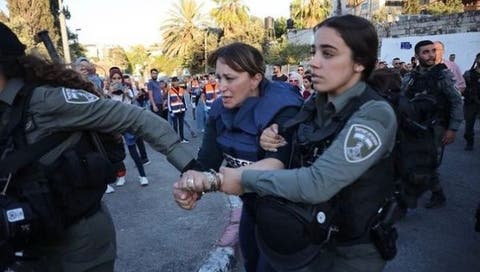 The Israeli occupation and police forces have shown no restraint in their endeavors of silencing Palestinians and all who seek to report on the truth of Israeli crimes. Journalists, like civilians, are protected against direct attacks under international humanitarian law. The detainment and attack of journalists, who can be classified as civilians constitutes a war crime and grave breach of the Geneva Convention. Israel's primary response to any attempt of Palestinian agency, reporting, and demonstration is a violent wave of arrests, assaults, and silencing, coupled with an escape of responsibility for its crimes. Journalism is an essential tool to recognizing the happenings of people across the globe, and the efforts being made to muzzle Palestinian voices points to the gravity of Israeli crimes. The human rights abuses committed by Israel extend beyond their violent military campaigns and illegal settlement building to the forced suppression of Palestinians and anybody who seeks to speak against the occupation. The arrest of the al-Kurd siblings and Budeiri symbolize another expression of the dystopian reality of Israel's means.
https://www.jpost.com/arab-israeli-conflict/police-arrest-twin-palestinian-activists-from-sheikh-jarrah-670248